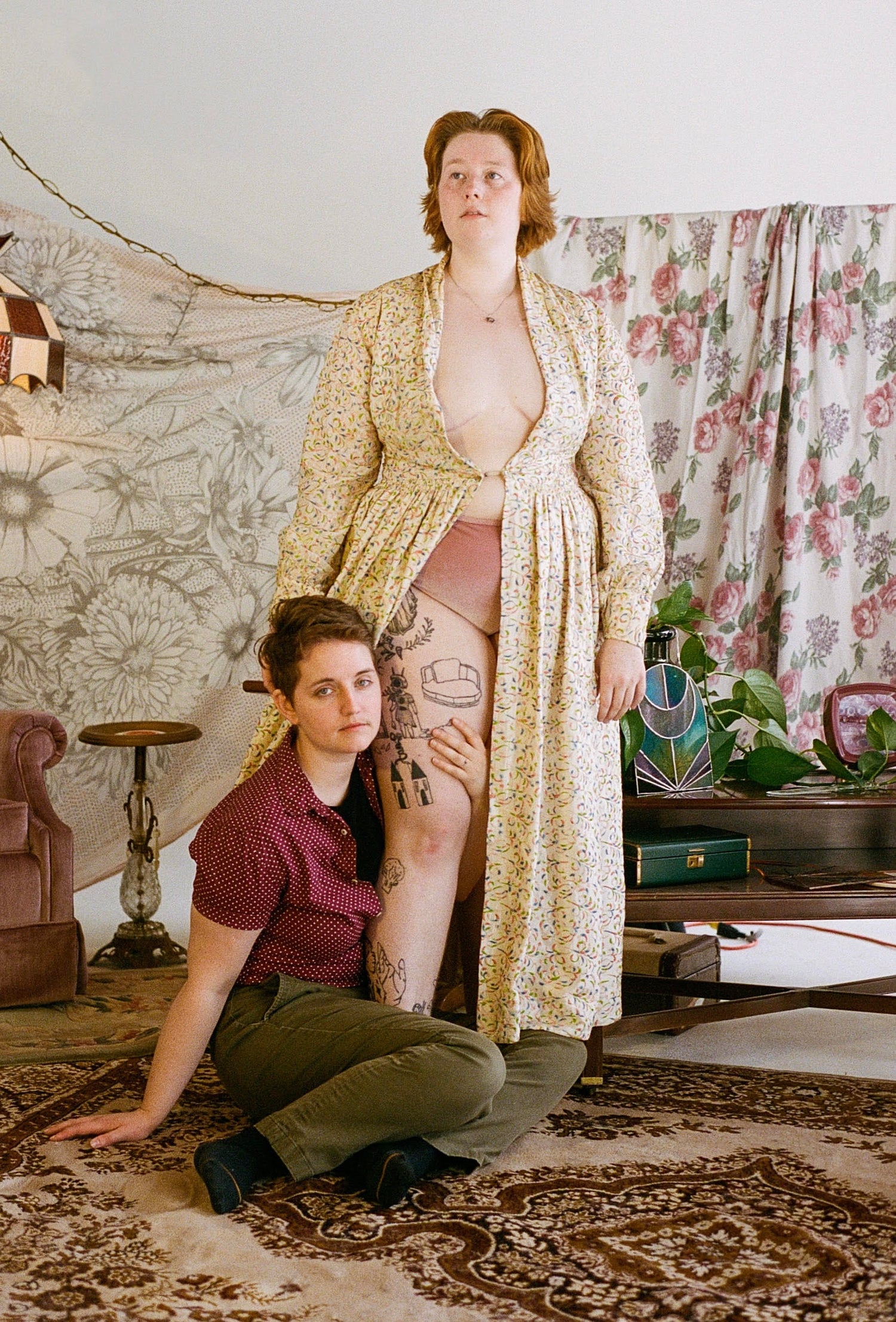 About Us
Welcome to Sonny's House! We are a cozy tattoo shop/art gallery/micro-press and (always) more. Ours is a trans home for artists, tattoo lovers, and vintage enthusiasts. It's comfy queer maximalism celebrating the joy of handmade art.
Lemon (they/them) - tattoo artist, printmaker, zinester, stained glass artist, and curator of Sonny's House
Nic (they/them) - embroidery artist, shipping expert, and curator of Honeyed Words
Frequently Asked Questions
how do i book a tattoo appointment?

updates on Lemon's booking always come to instagram first so check here!
how do "customizable flash tattoo appointments" work?

step 1. look through the 50+ available flash designs either irl at the beginning of your appt or on my patreon

step 2. you go through and show me all the elements you want included in your tattoo, you could pick 1, just part of one, 12, 37 designs... this time is for you to tell me what you like and what you don't like

step 3. I draw rough drafts

step 4. we refine or start over depending on how we feel about the rough drafts

step 5. we change any and everything you like and repeat until we land on a design you feel is just right

step 6. get the tattoo, whether you want to get the tattoo right that minute or wait til a secondary appointment is entirely up to you!
can i book an appointment for me and my friend-mom-partner-cousin-etc?

Yes! I love doing friend tattoos!! If there are more than 4 people attending you can book a tattoo party, and those have several perk options! Email us at welcome@sonnyshouse.com to inquire.
what are your rates?

when building your tattoo, i will print it out and tell you the price for different sizes we can then adjust, size, placement, and complexity to find a way to get the tattoo into your budget. the minimum is $250 about 90% of the tattoos seen on my instagram/the tattoos i do are under $500
what is your touch up policy?

touch ups are free! I'm still in the first 3 years of this craft and as much as we don't want to believe it, due to the nature of the human body no tattoo can be absolutely perfect forever. i can and will though do everything i can to make sure your tattoo remains a piece you love as you age together.
where can i see your available flash?

it is posted to and regularly updated on patreon!

the lowest tier is $3 a month and it's totally ok to just join to look before your appointment and then leave. you can sign up here!

the reason my flash drawings are not on instagram is to try and limit the number of people who steal my designs, and limit the number of messages i get daily re: design availablity. i'm just one person and it can get a bit overwhelming.
i don't live in pdx but i want one of your designs tattooed can i ___________?

nope. right now the only person authorized to tattoo my work is me. many of the designs seen on my insta were created with the tattoo recipient and intention that it would be a one of a kind design close to their heart. Please respect both their wishes and mine.
can you tattoo other peoples work?

I can adapt historical artworks, and occasionally children's book illustrations into tattoos, but i will not tattoo a design made by another tattooer. you can absolutely show me work from other artists as part of the inspo for a piece, but you will never get a copy from me.
what do i need to do before my appointment?

the day before your appointment i will send you a message requesting your proof of vaccination that also includes the following information:

1. try not to drink alcohol or consume other blood thinners for 24 hours before your appointment (do not forsake prescription medicine, listen to ur doctor first, then me lol)

2. eat a big meal with lots of protein, sugar, and carbs. low blood sugar and tattooing are not friends you invite to the same party

3. drink lots of water day before and of

4. wear clothing that makes the desired tattoo area easily accessible

5. arrive wearing a kn95 or n95 mask
i got your design tattooed by someone else and i want you to see/fix/approve it, but you arent responding to my messages?

this makes me sad, i will not engage with you, you either did not know this was uncool, or did not care and im too tired to interact, please stop messaging me