Dreams in Riso
a group riso print show that catches glimpses of the fairytale worlds we would live in if only we could
@outletpdx x @sonnyshouseof | @fern_werm @arsenikitty @atomicsharkie @briannasinpajamas @lemon.droop @mariah_bn @norkpen @hundredlily.art @gasp.yikes @primarily_pen @spooky_slime_smile @bizar_gomez @little.henn @renstrapp @strange_vessel @anxious_microbe @pixpixler @natsandme @lelandthebird @dorothydotcool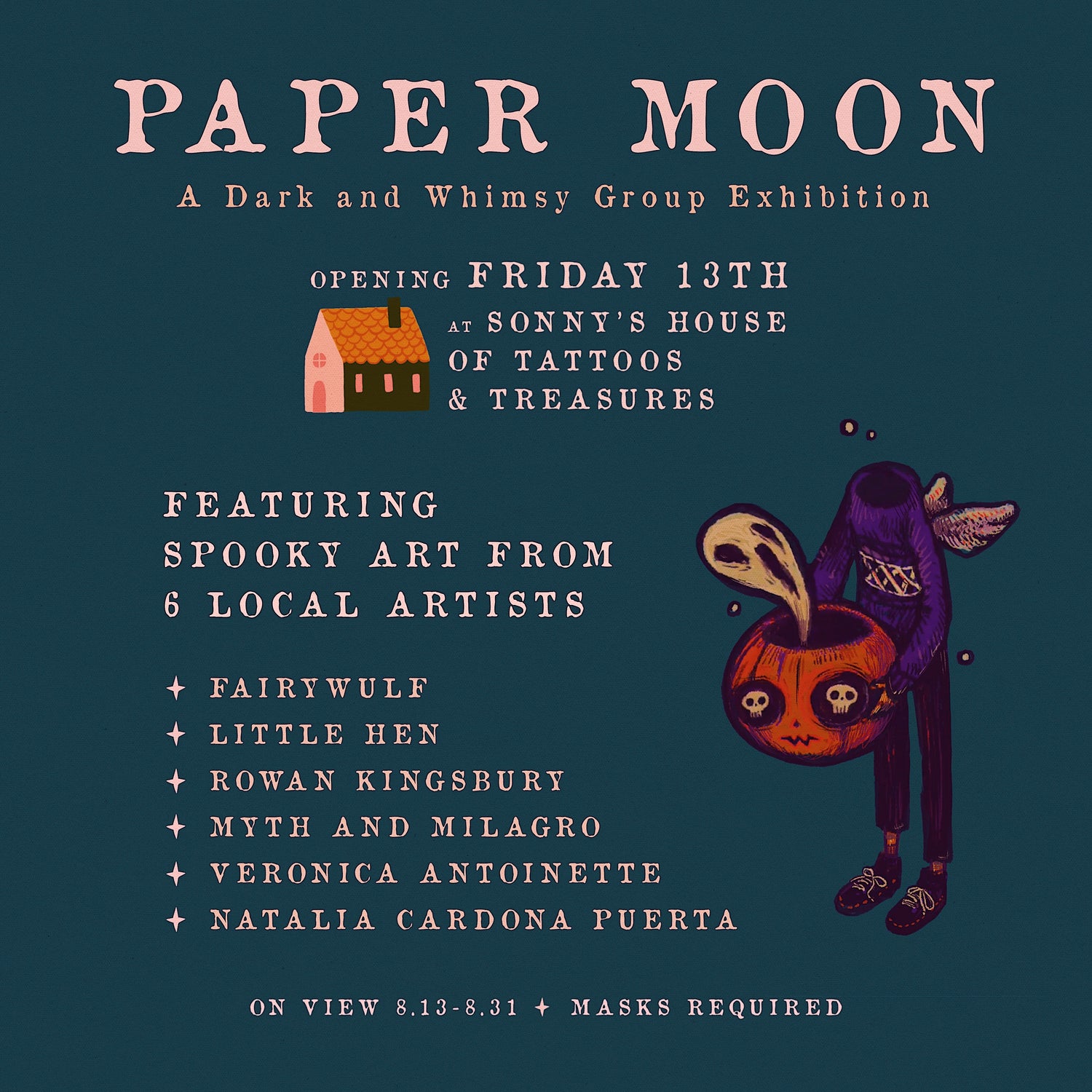 Regular price

$220.00 USD

Regular price

$220.00 USD

Sale price

$220.00 USD

Unit price

per

Regular price

$220.00 USD

Regular price

$220.00 USD

Sale price

$220.00 USD

Unit price

per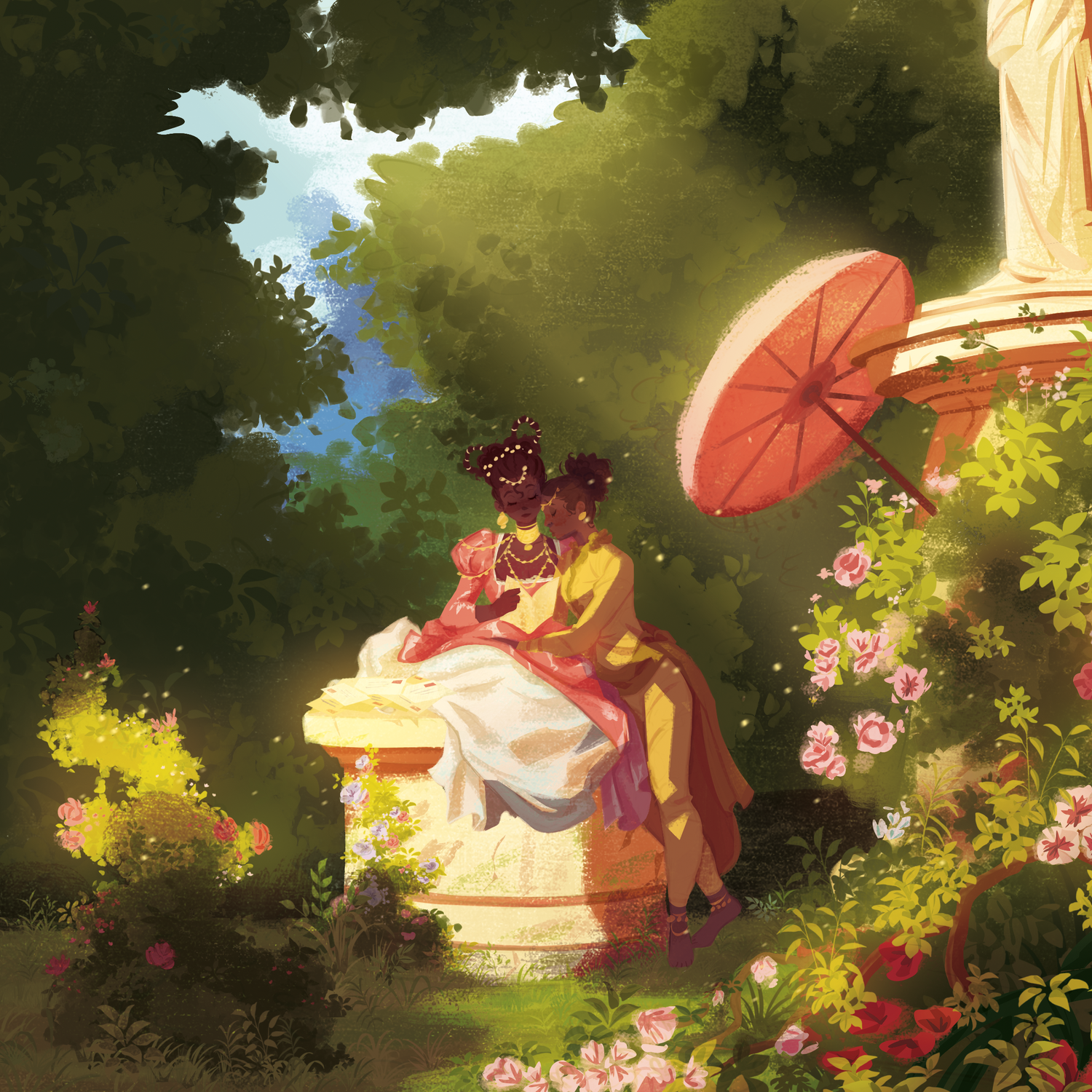 Classics…but make it gay Gallery Opening
*dusktrick*
Kitty McLeod-Martinez | @arsenikitty
a fiber arts show full of wearable, maximalist art inspired by sunsets, space, pop culture, and worlds beyond our own
Have you ever wanted to look like an illustration of a fairy from the 1800s? A witch who bakes magical pies? A sunset, or a galaxy? Have you ever wanted to find a door that transports you… elsewhere?

dusktrick is here for you, and I'm obsessed with it.

**many elements of dusktrick are not vegan. materials used include wool, silk, and leather. all materials are sourced as sustainably as possible.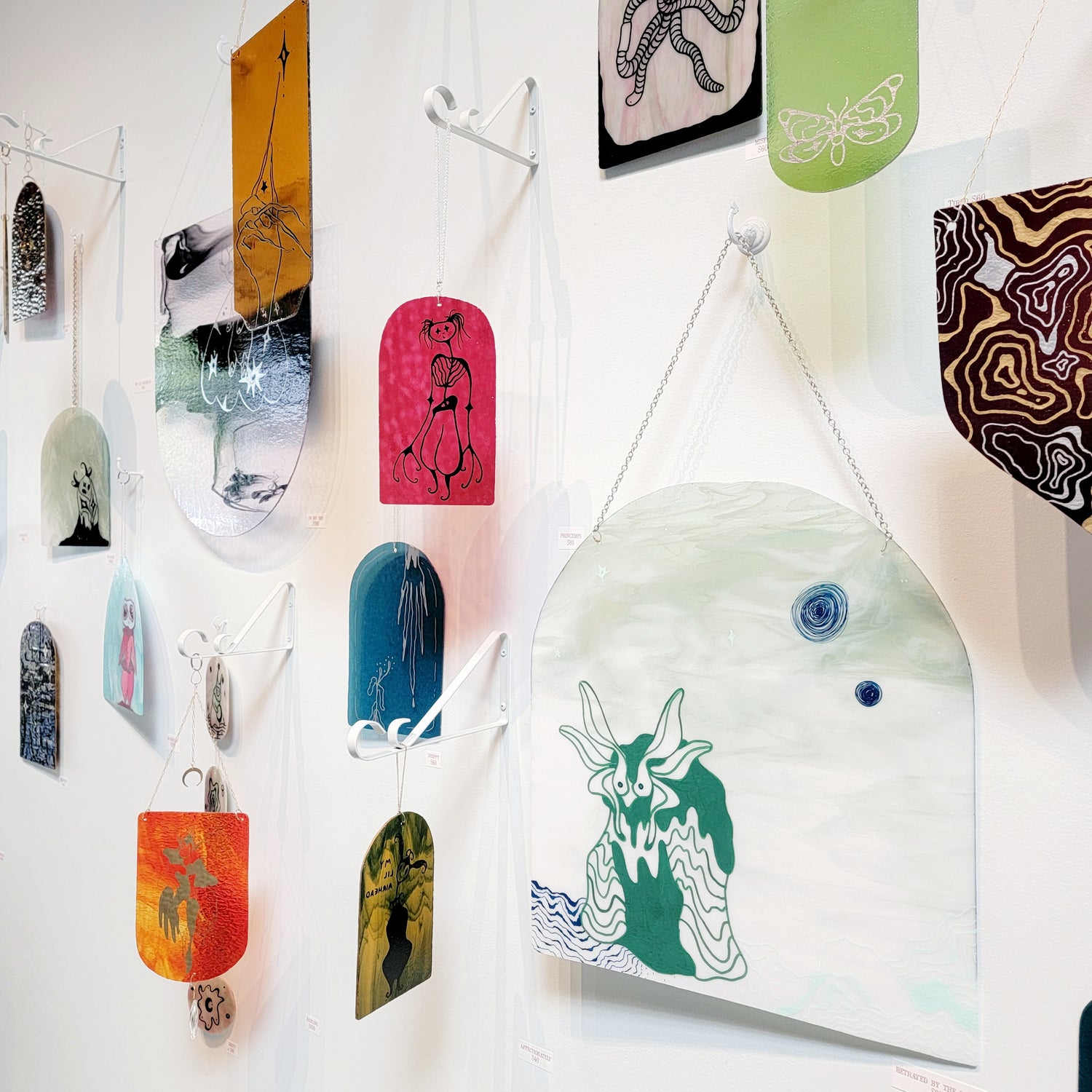 Here's to Hoping
Lemon Honey | @lemon.droop
an exploration through glass, a pendulum swing of hope, attempted solace, and lonely musings created in various states throughout losing and finding family
Regular price

Sale price

$80.00 USD

Unit price

per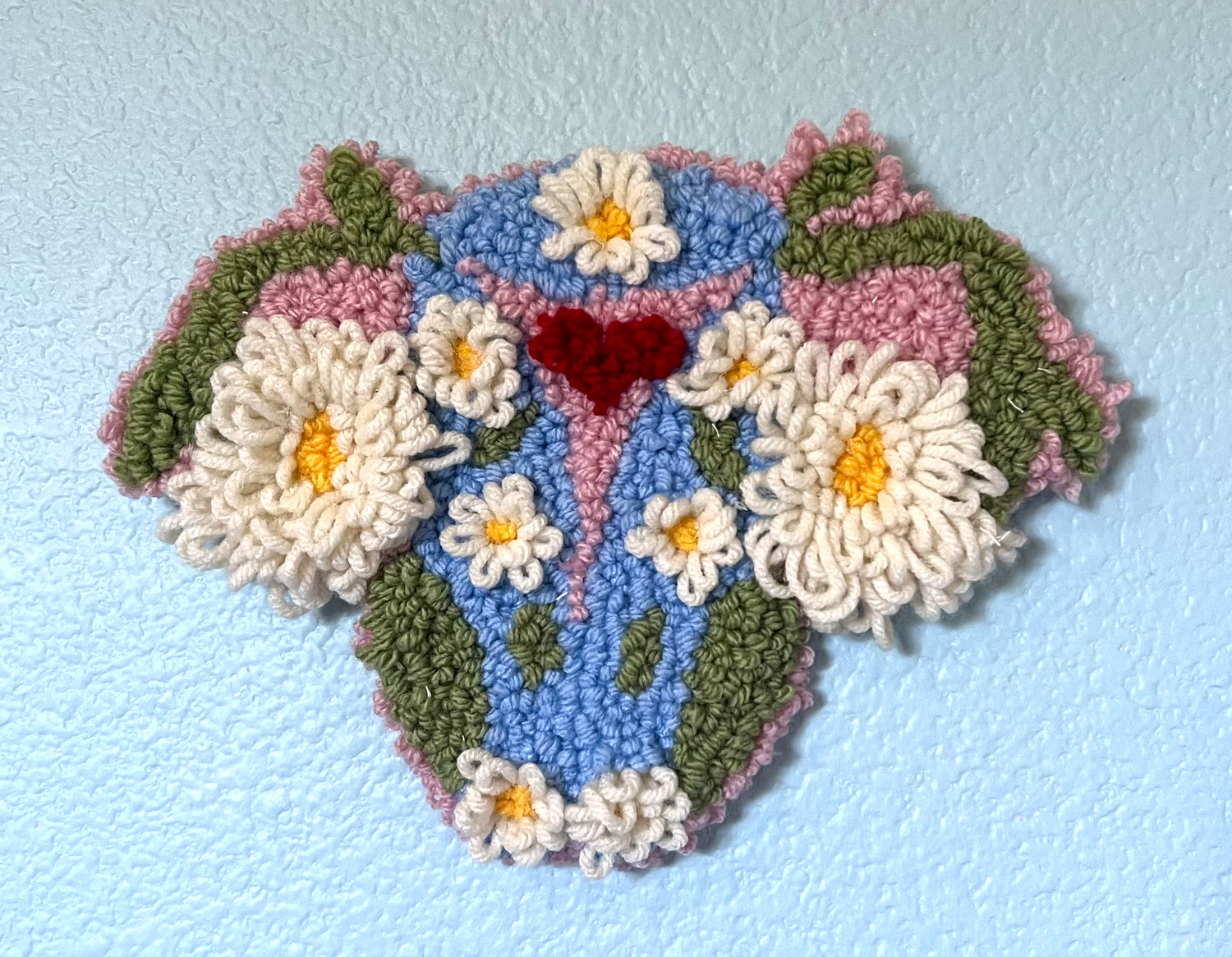 Getting Lucky
Phoebe May | @couplagoofs
a punch needle art show about their queer fertility journey, loss, rage, the concept of luck. 
From the artist: It's cheeky and cozy and tragic, just like trying to make a baby. If it resonates with you, I hope you find comfort somewhere in it.
Pearl Snap
by Cassy Steuerwald | @diddlymarsh
What happens when you finally get out? I grew up southern and I grew up trans. My life line was always imagining the life I'd create for myself when I got out of high school. Making habits of opening and closing blinds, cooking meals, deciding who sat at my table. Finally, I have that, and I find myself grieving for all my younger trans friends I left behind. I find a sense of loss at leaving the only home I have ever known, and the community I helped create. While independence is different from my teenage fantasies, I am proud of the world I've carved for myself, and continue to reach for a better future.
May contain: home, hopelessness, care, distance, a good meal, cowboy hats, joyful transness, and yearning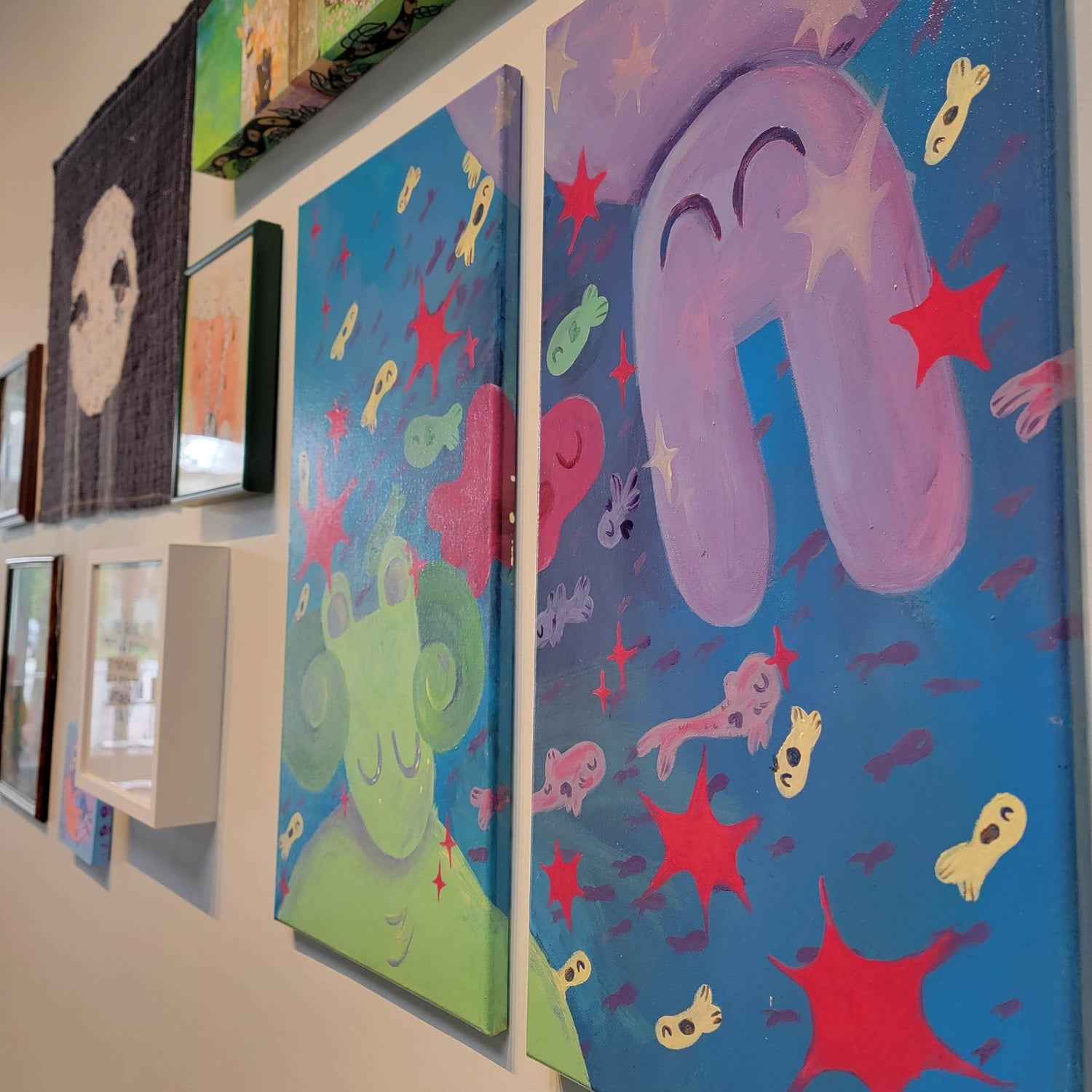 My Buddy Dorothy
a gallery show celebrating how queer friendships nestle their way into our hearts with a gentle and caring reckless abandon for how anything is supposed to be

featuring art by Allison Barr @alliisonder | Amie Pascal @amieisfriend | Arsenikitty @arsenikitty | Bella Pixler @pixpixler | Cassy Steuerwald @diddlymarsh | Erika Schnatz @erikaschnatz | Erin MacAdams @erin_m_creates | Fern @fern_werm | Lucy Laube @psychedelic_renaissance_ | Sara K Dunn @hauntingghostaesthetic
signs of certainty
(when navigating the void)
by Mellody Strahan | @jstorrgrrl
signs of certainty is an invitation. I find reflection and stillness the most riveting avenues for creation. My hope is that this show takes you on a walk you didn't know you needed, gifts you the space to unearth beauty in moments of discomfort, and realize peace in times of chaos.
I take pride in showing work that pulls at the threads of a forgotten memory for the viewer; like a film you saw ages ago and just happened upon at the most perfectly inconsequential time. 
Uncertainty
By Maggie Mae Rose | @ochrestar
Within the last few years I've been working with fibers and mixed media. Tufting rugs is a healing experience for me, as I am chronically ill, to be able to use my hands and create physical and touchable items is an absolute dream. These pieces are a mixture of fun things from my brain and symbolism regarding my journey having OCD. I am transparent and open to sharing my experiences with having OCD and being an artist with chronic illnesses. Please feel free to share your experiences with me. Thank you for being here.